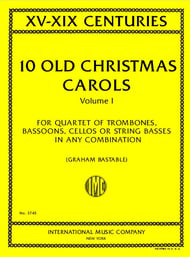 10 Old Christmas Carols, Vol. 1
arr. Graham Bastable
- International Music Co
Feature the warm tones and depth of sound of bass clef instruments for a delightfully different sound this holiday season! Arranged for a quartet of bass clef instruments in any combination, these traditional carols from long ago will fill the sanctuary or performance hall with joy and good cheer. Performance notes and the range of notes are shown for each part. Titles include: Coventry Carol; Shepherds, Rejoice!; In dulci jubilo; O Sanctissima; While Shepherds Watched; Nun komm, der heiden Heiland; Gaudete!; En! Natus est Emmanuel; Psallite Unigemito and Ding-Dong Ding!
Select a Product
Customers Also Bought
Full Song List
COVENTRY CAROL
SHEPHERDS, REJOICE!
IN DULCI JUBILO
O SANCTISSIMA
WHILE SHEPHERDS WATCHED
NUN KOM, DER HEIDEN HEILAND
GAUDETE!
EN! NATUS EST EMMANUEL
PSALLITE UNIGEMITO
DING-DONG DING!