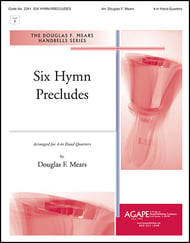 Six Hymn Preludes for Four in Hand
Douglas Mears
- Hope Publishing Company
Publisher Desc.
From the exquisitely serene setting of
More Love to Thee
to the rousing and jubilant
All Creatures of Our God and King
, this challenging compilation of six hymn preludes by four-in-hand composer Douglas Mears includes an extraordinary variety of favorite hymn arrangements. In
Holy, Holy, Holy
, Mears weaves the familiar hymn tune
Nicaea
with a tender, original countermelody, creating a stunning music-box effect. Constant tolling of lower bells in
The King of Love
creates an image of a distant cathedral tower ringing as an accompaniment to the stirring Irish melody
St. Columba
. The perpetual motion of cascading bells in the toccata-like
Lasst Uns Erfreuen
brings this exciting new collection to a stunning climax.
Select a Product
Customers Also Bought