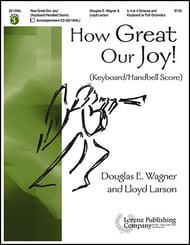 How Great Our Joy!
Douglas Wagner & Lloyd Larson
- Lorenz Corporation
The glorious sounds of Christmas ring continuously from beginning to end in this fabulous montage of four joyous carols of the season.  Rhythmically, the bell parts are not difficult, and are scored with ample doubling for balance and added confidence.  The keyboard part may be performed on piano or organ, but for the greatest effect, have your listeners experience the dynamic Brant Adams orchestration with either live instruments or with the accompaniment CD.  For churches, community events or school holiday concerts, there is simply nothing better!
Select a Product
Customers Also Bought