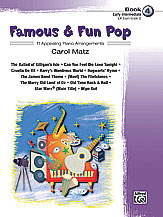 Famous and Fun Pop
(Books 1-5)
arr. Carol Matz
- Alfred Music Publishing
No matter what your level, you can enjoy playing your favorite popular songs. This series ranges from the early elementary to intermediate levels and features some of the most popular songs from movies, television, radio and popular American culture. Optional teacher duets are provided with each song. Among the five collections, titles include:
Can You Feel the Love Tonight; Over the Rainbow; This Land Is Your Land; Great Balls of Fire; James Bond Theme; Zip-a-Dee-Doo-Dah; Happy Birthday to You; The Pink Panther; Star Wars Main Title; Harry's Wondrous World; Under the Sea
and many, many more.
Select a Product
Customers Also Bought
Full Song List
THE FLINTSTONES
CAN YOU FEEL THE LOVE TONIGHT FROM THE LION KING
CRUELLA DE VIL FROM 101 DALMATIANS
HARRY'S WONDEROUS WORLD FROM HARRY POTTER AND THE SORCERER'S STONE
HOGWARTS' HYMN FROM HARRY POTTER AND THE GOBLET OF FIRE
JAMES BOND THEME
OLD TIME ROCK AND ROLL
STAR WARS MAIN TITLE
THE BALLAD OF GILLIGAN'S ISLE
THE MERRY OLD LAND OF OZ FROM WIZARD OF OZ