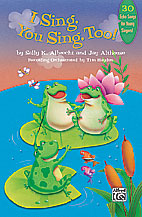 I Sing, You Sing Too!
(30 Echo Songs for Young Singers)
Sally Albrecht & Jay Althouse
- Alfred Music Publishing
Echo songs are a perfect way to develop independent singing and listening skills in your young students. These 30 echo songs encompass a wide variety of subjects, including seasons and holidays, yodeling, growing up, homonyms, solfege, and more! Singers may echo the leader provided on the CD or take turns being leaders themselves. Chord symbols and suggested classroom activities are provided in the songbook.
Select a Product
Customers Also Bought