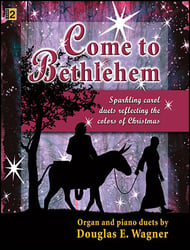 Come to Bethlehem
Douglas Wagner
- Lorenz Corporation
Douglas Wagner has created six uniquely stylized carol settings that display the wide range of tonal color and emotion that the piano and organ duet can produce. You will find this collection fun to play, musically satisfying, and full of sounds that warm the heart and delight the ear this joyous time of year. Titles include:
What Shall I Give to the Child?; On Christmas Night; I Wonder as I Wander; O Little Town of Bethlehem; Infant Holy, Infant Lowly; and O Come, All Ye Faithful
. Two copies are required for performance.
Select a Product
Customers Also Bought