Little Mozarts Go to Church
(10 Favorite Hymns and Sunday School Songs)
arr. Christine Barden, Gayle Kowalchyk & E.L Lancaster
- Alfred Music Publishing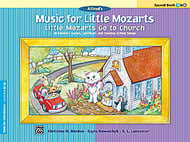 Little Mozarts Go to Church
(10 Favorite Hymns and Sunday School Songs)
arr. Christine Barden, Gayle Kowalchyk & E.L Lancaster
- Alfred Music Publishing
Designed to supplement the
Music For Little Mozarts
piano method, but appropriate as a supplement to any method, these sacred books are arranged for very young children at the earliest level. These wonderful books each include ten arrangements of hymns, spirituals and Sunday school songs. The first book is arranged in pre-reading notation. The second book has music written on the staff. Both books include a duet accompaniment for a parent or teacher. Book 1 includes:
Jesus Loves Me; For the Beauty of the Earth; This Little Light of Mine; Deep and Wide; Amazing Grace; Rise and Shine; Praise God from Whom All Blessings Flow; Do, Lord; Stand Up, Stand Up for Jesus
and
I've Got the Joy, Joy, Joy.
Book 2 includes:
The B-I-B-L-E; God is So Good; Fairest Lord Jesus; Praise Him, All Ye Little Children; O, How I Love Jesus; Holy, Holy, Holy; Jacob's Ladder; The 12 Desciples; What a Friend We Have in Jesus
and
He's Got the Whole World in His Hands.
Select a Product
Customers Also Bought
Full Song List
THE BIBLE
GOD IS SO GOOD
FAIREST LORD JESUS
PRAISE HIM ALL YE LITTLE CHILDREN
O HOW I LOVE JESUS
HOLY HOLY HOLY
JACOB'S LADDER
THE 12 DISCIPLES
WHAT A FRIEND WE HAVE IN JESUS
HE'S GOT THE WHOLE WORLD IN HIS HANDS