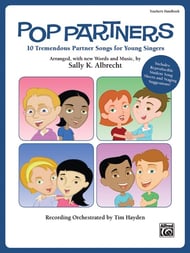 Pop Partners
Sally Albrecht
- Alfred Music Publishing
Using partner songs in the classroom is a great way to bridge the gap from unison to 2-part singing. This reproducible collection features well-known, fun-to-sing songs that will never go out of style, complete with staging suggestions. The performance/accompaniment CD also includes reproducible .pdf files of student pages and cover art. Songs include:
All I Want for Christmas Is My Two Front Teeth; Bye Bye Blackbird; Frosty the Snowman; Jingle Bell Rock; Shake, Rattle and Roll; Singin' in the Rain; Splish Splash; Strike Up the Band!; Toot, Toot, Tootsie (Goo-bye)
and
When You're Smiling.
Select a Product
Customers Also Bought