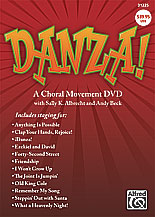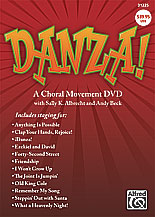 Danza!
Sally K. Albrecht & Andy Beck
- Alfred Music Publishing
Join Sally and Andy as they demonstrate and talk you through staging suggestions for twelve Alfred choral titles including:
Anything Is Possible; Clap Your Hands, Rejoice!; Danza!; Ezekiel and David; Forty-Second Street; Friendship; I Won't Grow Up; The Joint Is Jumpin'; Old King Cole; Remember My Song; Steppin' Out With Santa; What a Heavenly Night!
Select a Product
Customers Also Bought
Full Song List
ANYTHING IS POSSIBLE
CLAP YOUR HANDS REJOICE
DANZA
EZEKIEL AND DAVID
FORTY SECOND STREET
FRIENDSHIP
I WON'T GROW UP
JOINT IS JUMPIN'
OLD KING COLE
REMEMBER MY SONG
STEPPING OUT WITH SANTA
WHAT A HEAVENLY NIGHT