12 Folk Songs for Solo Singers
(Arranged for Solo Voice and Piano for Recitals, Concerts, and Contests)
ed. Sally K. Albrecht
- Alfred Music Publishing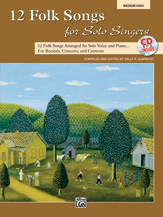 12 Folk Songs for Solo Singers
(Arranged for Solo Voice and Piano for Recitals, Concerts, and Contests)
ed. Sally K. Albrecht
- Alfred Music Publishing
This excellent collection of 12 varied folksongs from near and far offers fresh settings suitable for study and performance. Available in medium-high and medium-low editions. Titles include:
A-Rovin; Arirang; By Waters Clear and Flowing; How Can I Keep from Singing?; Johnny's Gone; Land of Our Dreams; The Lass from the Low Country; Ol' Dan Tucker; Star of the County Down; Sun Don't Set in the Mornin', Waters Ripple and Flow
and
Where the Sea Meets the Sky.
Select a Product
Customers Also Bought
Full Song List
A-Roving by Gary Parks
Arirang by Sonja Poorman & Jonathan Lim
By Waters Clear and Flowing by Douglas Wagner
How Can I Keep from Singing? by Andy Beck
Johnny's Gone by Mark Hayes
Land of Our Dreams by Hope Harrison & Jay Althouse
The Lass from the Low Country by Vicki Tucker Courtney
Ol' Dan Tucker by Dave and Jean Perry
Star of the County Down by Douglas Wagner
Sun Don't Set in the Mornin' by Jay Althouse
Waters Ripple and Flow by Jay Althouse
Where the Sea Meets the Sky by Sally K. Albrecht
This item appears on the following state lists: