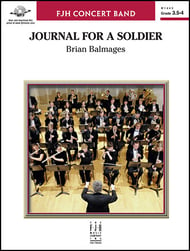 Journal for a Soldier
Brian Balmages
- FJH Music Company Inc
This powerful piece tells the story of a little girl's message in a journal signed by passengers on an airplane that was given to a father and husband serving overseas in the military. The music is based on Brahms'
Lullaby
and the Navy hymn
Eternal Father, Strong to Save.
The work draws on fragments from each piece while connecting to original material. The entire theme to
Eternal Father
is heard in the middle of the piece, providing a stir of emotions. The piece concludes with bells and vibes playing
Lullaby,
as though a music box is winding down and the father is now home from the war to put his daughter to bed.
Select a Product
Customers Also Bought
This item appears on the following state lists:
This item appears on the following festival lists: