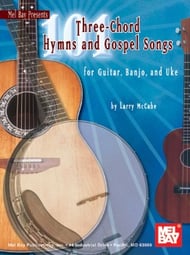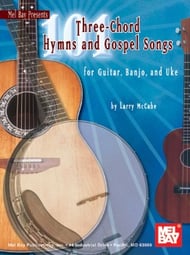 101 Three-Chord Hymns and Gospel Songs
Larry McCabe
- Mel Bay Publications Inc.
Publisher Desc.
You need only minimal playing skills and three chords - G, C and D7 - to accompany the beautiful songs of faith in this innovative book. If you are a beginning or casual player on a chording instrument, this is the book for you. It's bursting with a great variety of timeless standards your entire family will enjoy. An outstanding collection of innovative arrangements made playable for folks who play for their own enjoyment. Melody and lyrics are included with all songs.
Guitar, ukulele and five-string banjo diagrams are included for the three chords along with tips on strumming. Transposing and tips for using a capo are included.
Select a Product
Customers Also Bought
Full Song List
'TIS BURNING IN MY SOUL
ABIDE WITH ME
ALL GOD'S CHILDREN
ALL THINGS BRIGHT AND BEAUTIFUL
AMAZING GRACE
AMERICA
ANGEL BAND
ARE YOU COMING TO JESUS
ARE YOU WASHED IN THE BLOOD
AT THE CROSS
BATTLE HYMN OF THE REPUBLIC
BEAUTIFUL LIFE, A
BEYOND THIS LAND OF PARTING
BLESSED BE THE NAME
BOUND FOR CANAAN
BRIGHTEN THE CORNER WHERE YOU ARE
BRINGING IN THE SHEAVES
BYE AND BYE
CHURCH IN THE WILDWOOD
CITY OF GOLD
CLOSE TO THEE
COUNT YOUR BLESSINGS
DO LORD, REMEMBER ME
DON'T YOU WEEP AFTER ME
DOVE OF PEACE
DOWN IN MY HEART
EVERY DAY AND EVERY HOUR
EVERY TIME I FEEL THE SPIRIT
FAITHFUL SOLDIER
FARTHER ALONG
FIRE IS BURNING, THE
GOD IS SO GOOD
GONE FROM MY HEART
GREAT SPECKLED BIRD, THE
HE LEADETH ME
HIGHER GROUND
I AM COMING HOME
I AM RESOLVED
I AM THINE, OH LORD
I LOVE THEE
I LOVE TO TELL THE STORY
I WANT TO GO WHERE JESUS IS
I WILL PRAISE HIM
I'M GONNA SING
IT SOON BE DONE
JESUS BREAKS EVERY FETTER
JESUS LOVES ME
JESUS LOVES THE LITTLE CHILDREN
JESUS, LOVER OF MY SOUL
JUST A CLOSER WALK WITH THEE
JUST AS I AM
JUST OVER IN THE GLORY LAND
KEEP ON THE SUNNY SIDE
LET THE SUNSHINE IN
LILY OF THE VALLE
LITTLE MOSES
MICHAE
MY JESUS, I LOVE THEE
MY LORD, WHAT A MORNING
NEAR THE CROSS
NOBODY KNOWS THE TROUBLE I'VE SEEN
NOTHING BUT THE BLOOD
O BROTHERS, DON'T GET WEARY
OH LORD, HOW LONG?
OH MARY, DON'T YOU WEEP
OH, HOW I LOVE JESUS
OLD GOSPEL SHIP
OLD SHIP OF ZION, THE
ON JORDAN'S STORMY BANKS
ON THE OTHER BRIGHT SHORE
PASS ME NOT, O GENTLE SAVIOR
PRECIOUS NAME
REVIVE US AGAIN
SAVIOR, LIKE A SHEPHERD LEAD US
SEND THE LIGHT
SHALL WE GATHER BY THE RIVER
SIMPLE GIFTS
SOFTLY NOW THE LIGHT OF DAY
SOLDIERS OF THE CROSS
SOMEBODY TOUCHED ME
SOMETHING WITHIN
STAND BY ME
STANDING IN THE NEED OF PRAYER
STANDING ON THE PROMISES
STREETS OF GLORY
THERE IS POWER IN THE BLOOD
THESE BONES GWINE RISE AGAIN
THIS IS MY FATHER'S WORLD
THIS WORLD IS NOT MY HOME
TO THE WORK
UNCLOUDED DAY, THE
VALLEY OF BLESSING, THE
WALKING IN THE GOOD OLD WAY
WE SHALL ALL BE REUNITED
WERE YOU THERE?
WHEN I SURVEY THE WONDROUS CROSS
WHEN THE ROLL IS CALLED UP YONDER
WHEN THEY RING THE GOLDEN BELLS
WHISPERING HOPE
YESTERDAY, TODAY, FOREVER
YOU MUST BE REDEEMED