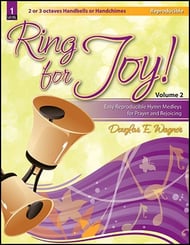 Ring for Joy! No. 2
Douglas E. Wagner
- Lorenz Corporation
The need for easily learned two to three octave settings of familiar hymn tunes remains strong, as seen in the positive reception of the first volume of Ring for Joy. This second collection of fifteen hymn tunes, with reproducible handbell parts included, are arranged in seven musically inspired, theme-based settings that presents a wealth of highly useful material for worship. Perfect for young ringers and taking a minimum amount of time to prepare, yet true to Level 1 parameters, no bell or chime changes are included in these arrangements, with no subdivision of the beat. Titles include:
In Joyful Praise!; Tender Savior, Trusted Lord; Jubilate, Alleluia!; Nearer, Lord , With Me; With a Heart of Faith and Love; Our Lord and King Adore!
and
Comforter and Holy One.
Select a Product
Customers Also Bought