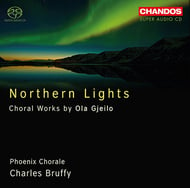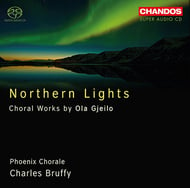 Northern Lights
(Choral Works by Ola Gjeilo)
Phoenix Chorale
- Naxos of America, Inc.
An album of choral music by Norwegian composer Ola Gjeilo, featuring the Grammy-winning Phoenix Chorale, conducted by Charles Bruffy.
Also featured on the disc are the Harrington String Quartet, Emmanuel Lopez (cello), Alison Chaney (soprano), Ted Belledin (tenor saxophone), and the composer playing piano on several of the tracks. Works performed are:
The Ground; Serenity; Ubi Caritas; Northern Lights; Dark Night of the Soul; The Spheres; Tota pulchra es; Prelude; Phoenix; Unicornis captivatur; Evening Prayer.
Select a Product
Customers Also Bought