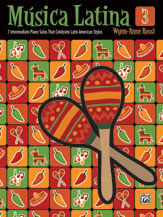 Musica Latina
(Piano Solos that Celebrate Latin American Styles)
Wynn-Anne Rossi
- Alfred Music Publishing
Where can you find piano solos with Latin American themes and styles at the late elementary to intermediate levels, written for piano students? Right here with this progressive series of three books! Thanks to Wynn-Anne Rossi's creative brilliance, the pieces are unique, upbeat, engaging and absolutely accessible to piano students and hobbyists of all ages. The Latin American styles (from Central and South America) include cha-cha, calypso, tango, bossa nova and more. Aspects of the culture and geography are depicted throughout. A very brief and interesting fact compliments each piece as well as short, preparatory rhythmic exercises. The student simply taps with right and left hands to become familiar with the new rhythmic pattern. Among the three books, titles include:
Cafe cha-cha; Habanero!; Machu Picchu; Alma del Tango; Carnaval!; Bienvenidos a la Argentina!; Viva el roc y rol!
and many more!
Select a Product
Customers Also Bought
Full Song List
BIENVENIDOS A LA ARGENTINA!
ESTRELLAS IN CIELO
GAUCHO
LA PRIMAVERA EN LA PATAGONIA
RECUERDOS DE ESPANA
RIO AMAZONAS
VIVA EL ROC Y ROL!