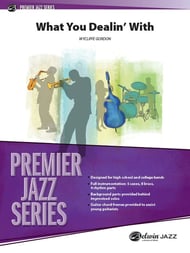 What You Dealin' With?
Wycliffe Gordon
- Alfred Publishing Belwin Division
This is the show closer that will bring down the house! The main groove is a funky boogaloo at about 103 bpm, plus a band chant, a swing section, and a gospel feel. Flexible solo space with written solos is provided for trombone 1, alto, tenor, and trumpet 2, and the lead trumpet range is to high C. Hey, there's something here for everyone!
Select a Product
Customers Also Bought
This item appears on the following festival lists: