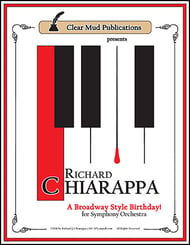 A Broadway Style Birthday!
(For Full Orchestra)
Richard Chiarappa
- Clear Mud Publications
Publisher Desc.
Originally written for the birth of a new community orchestra, this bright, bouncy arrangement for full orchestra can be used to celebrate an institution's milestone, a significant birthday of a group or a special person. It's a minute long and clearly in the Broadway style!
Select a Product
Customers Also Bought
MINTS