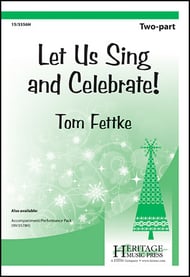 Let Us Sing and Celebrate!
Tom Fettke
- Heritage Music Press
Strains of the familiar Masterpiece Theatre opening theme combine with an upbeat seasonal text in this joyful piece. Comfortable ranges, step-wise motion, easy melodic skips, and school-friendly lyrics make this work welcome fare for any holiday concert. "Let us sing and celebrate with cheerful hearts this season of the year..."
Select a Product
Customers Also Bought