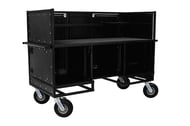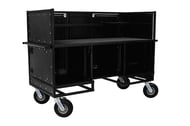 Seated Synth Mixer Combo Cart
(Keyboard Cart)
- Pageantry Innovations, LLC
A customer service rep will contact you with a shipping quote.

Built to last, visually stunning, and easy to use for professionals and novices alike.
• 48" H x 68" W x 30" D
• High-density shock-absorbing keyboard shelf
• 1-1/2" square tube internal accessory rail
• Two SpeakON NL4 jacks linked to four SpeakON NL2 internal cables (customizable)
• One power inlet linked to eight internal outlets
• High-density textured black ABS panels
• Built-in rear cable drop
• Two x 8u space rack
• Fully enclosed with removable top and back covers
• Four 8" flat-free swivel locking casters
Stealth Series upgrade: Textured black powder coated hinges, black oxide hardware
Bi-Fold Top Cover upgrade: Nonremovable piano-hinged top cover (addition of the bi-fold top cover eliminates the internal accessory rail)

This oversized item directly from the manufacturer - additional shipping charges apply.
Allow 30 to 60 days for delivery. Delivery times may vary depending on seasonal demand. US deliveries only.
Warranty:
Pageantry Innovations offers five-year coverage on the structural integrity of all Pageantry Innovations products. A two-year warranty will cover all electrical components and wiring. A one-year warranty covers all wheels and hardware. Warranty does not apply to used purchases, items subjected to improper use, or water damage.
Select a Product
Customers Also Bought