Gibraltar Drum Set Hardware Pack
Gretsch
- Gibraltar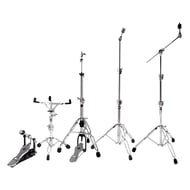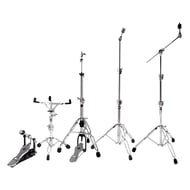 Gibraltar Drum Set Hardware Pack
Gretsch
- Gibraltar
4700PK Hardware Pack
Double Braced Hardware Pack
These stands feature low-mass double braced construction with double braced tripod, hinged height adjustment with nylon bushings for no metal-to-metal contact.
Features:
Cast hinged height adjustment points
Fine adjust geared cymbal tilter
Low-mass double braced tripods

Pack includes:
4706 Double Braced Lightweight Snare Stand
4707 Double Braced Lightweight Hi Hat Stand
4709 Double Braced Lightweight Boom Stand
4710 Double Braced Lightweight Cymbal Stand
4711ST Strap Drive Single Pedal

6700PK Hardware Pack
Professional Double Braced Hardware Pack
The 6700 Series combines the best features of the 9600 and 6600 series into one. Heavy-duty construction, but light enough in weight and mass for easy transport. Cymbal stands have been upgraded with Brake tilters, 18" boom rods with memory lock, G contour super-lock height adjust. The hi hat stand is fitted with direct drive linkage and the brand new G Class fast touch foot board.

Features
Gibraltar exclusive brake tilter
Two-point hideaway boom with memory lock
Three-tier stand with Super lock height adjust system, ABS inserts, and offset memory lock
6000 double braced tripod base
Contains:
6706 Snare Stand
6707 Hi Hat Stand
6709 Boom Cymbal Stand
6710 Straight Cymbal Stand
6711S Single Bass drum pedal

Specifications
Height: 23" to 58"
Weight: 7.8 lbs
Tube Diameters: 1-1/16", 1", 3/4"

Drum Throne 6608
Motocycle Style Vinyl Seat - Top grade foam for maximum comfort, Adjusts from 18" to 24" high, Direct in height adjustment with memory lock

Hardware Bag GHTB
Hardware Transport System
32- inch bag with inset wheels makes it easy to transport your STEALTH rig from gig to gig.
Select a Product
WARNING: This product can expose you to chemicals which are known to the State of California to cause cancer, birth defects, or other reproductive harm.
Customers Also Bought