Great Women Composers Barbara Strozzi
Al Moretti
- Moretti Music Publishing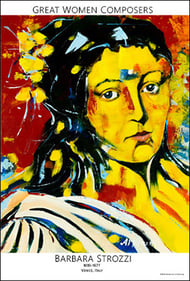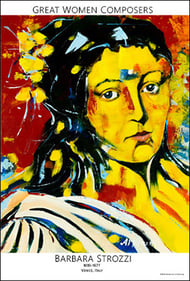 Great Women Composers Barbara Strozzi
Al Moretti
- Moretti Music Publishing
Barbara Strozzi (also called Barbara Valle; baptised (1619–1677) was an Italian singer and composer. Her Baroque compositions were published in her lifetime.
Barbara was said to be "the most prolific composer – man or woman – of printed secular vocal music in Venice in the Middle of the 17th century. Most of her works are for Soprano since she was a remarkable soloist and performer. Her father Guilio Strozzi was a poet and libretist who encourage his daughter in music and often promoted her public performances. Her compositions often contain her father's poetry.
Her soprano solos are quite beautiful and contain unexpected notes and twists. Barbara was a rare and prolific talent.
Collection 1, Set of 5 Women Composers, Hildagard von Bingen, Barbara Strozzi, Francesca Caccini, Elisabeth Jacquet de La Guerre, Princess Natalia Ivanovna Kurakina

Collection 2, Set of 5 Women Composers, Fanny Mendelssohn, Lili Boulanger, Clara Wieck Schumann, Louise Farrenc, Zitkala-Sa
Select a Product
Customers Also Bought