Mobile Band and Orchestra Folio Cabinet 2 Column No Doors
Wenger
- Wenger Corporation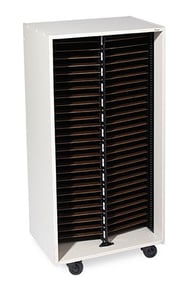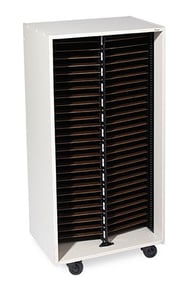 Mobile Band and Orchestra Folio Cabinet 2 Column No Doors
Wenger
- Wenger Corporation
~ A Customer Service Rep will contact you with a shipping quote. Shipping to Continental USA Only.
Wenger's Mobile Folio Cabinets are a great
way to make your choral, band or orchestra
music portable.

Polyester laminate finish for added strength
Available with adjustable shelves for both choral and band/orchestra
Shelf supports are guided by an extruded-aluminum column with black finish
2 Column -Selves 1.5" spacing, 56 Slots
Shelves are constructed of thermofused composite wood
Shelf spacing is adjustable in ½" (1.3 cm) increments from 1" (2.5cm) to 3" (7.5cm) spacing intervals
Choice of all the color combinations shown below
Durable, smooth-rolling swivel casters let you take your sheet music anywhere
Two-Column Mobile Band/Orchestra Folio Cabinet
Dimensions: 32-7/16"w x 17-5/8"d x 50-7/8"h (83 cm x 45 cm x 129 cm)
- without door, 147 lbs (67 kg)
Allow 30 to 60 Days Delivery Time. Comes fully assembled.
Select a Product
Customers Also Bought