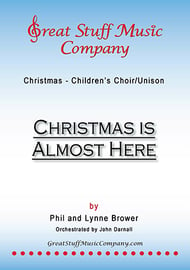 Christmas Is Almost Here
Phil & Lynne Brower / John Darnall
- Great Stuff Music Company
The fast and very animated verse depicts - lyrically AND musically - the wonderworld of a child's mind when Christmas Day is "…almost here." Even as they begin singing the words depicting with vivid imagination the soon arrival of the "…very best day of the year," one can almost hear the countdowns whirling in their heads of the calendar pages left 'til the day "…above all the rest" arrives. After the flurry of the verse, the musical mood broadens into an easy, rich, and charming feeling wrapping everyone in the Christmas mood. No wonder kids walk around with "…big grins on their faces." The audience will be grinning also. It's contagious! Can't get away from it!
For fully orchestrated accompaniment tracks or listening tracks, please visit our website at greatstuffmusiccompany.com.
*Director's Notes- Certainly this song can be used as a stand-alone, The enthusiasm and speed at which it "comes on" is captivating and electrifying. The children's excited anticipation cannot help but transport the audience back to the days of their childhood and utter delight at the coming of Christmas. BUT…if I may offer one suggestion... IF you are doing an entire program, consider using it in its entirety as an opening and repeat the chorus as a reprise/finale. It will make all feel like they've just experienced a Christmas "show," performed by the children they know and love best. Merry Christmas everyone!
Select a Product
Customers Also Bought