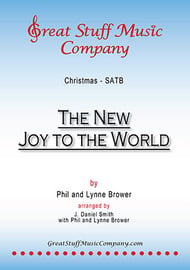 The New Joy to the World
Phil & Lynne Brower / J. Daniel Smith
- Great Stuff Music Company
Here, a bright, creative arrangement of perhaps the most exuberant Christmas carol of all time comes wrapped in innovative accents (rhythmic AND lyrical). It incorporates both traditional and contemporary dynamics, providing just a hint of vocal-jazz affect. The result offers a newly-spirited, riveting, rendition of 'Joy" to the World. A loved, musical tradition of the Season!
For fully orchestrated accompaniment tracks or listening tracks, please visit our website at greatstuffmusiccompany.com.
*Director's Note: Because this carol is an integral part of every Christmas , it offers a fresh, vibrant surprise to a carol favorite. This song's celebratory sound AND familiarity also makes it a fitting selection for a processional or entrance. What a way to start!
Select a Product
Customers Also Bought