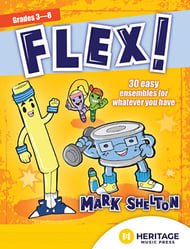 Flex!
(30 Easy Ensembles for Whatever You Have)
Mark Shelton
- Heritage Music Press
Instruments are so important in a quality music education, but some struggle with using them effectively, especially if you don't have all the instruments you would like to have. Here's the answer! This book offers 30 opportunities to practice ensemble skills with whatever instruments you have - whether a plethora of fantastic instruments or simply body percussion. Develop your students' skills while they experience a variety of styles, key signatures, and rhythmic figures that will stay with them in their musical journey. Use with barred percussion, buckets, Boomwhackers, conventional classroom percussion instruments, found sounds, and body percussion. Downloadable recordings included.
Copyright: : ©2019
Select a Product
Customers Also Bought