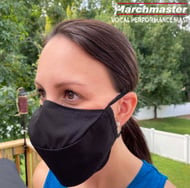 Performance Series Face Mask - Vocal
- Marchmaster, Inc.
Created for choral singers and solo vocalists, the Performance Series mask provides equal tension around the face and is positioned away from the mouth to prevent interference with the performer's singing or breathing. The mask has a finished pocket on the inside front to allow for a filter to be inserted by the user if they wish. Available in two sizes and two colors, it features two pieces of sewn-in elastic which allow the wearer to adjust the fit. The elastic straps are worn around the head, not over the ears. Sewn from a tightly woven yet breathable fabric in a 65% polyester/35% cotton blend with a 133 x 72 per inch thread count. The central piece has a three-ply fusible interfacing. Machine washable.
Available in the following sizes:
Youth: 4.5" height x 7" width (recommended for middle school-aged students)
Adult: 5.25" height x 8" width
Performance Series masks are not replacements for medical-grade masks. CDC and governmental health guidelines should be followed when using this product. Wash before use.
Select a Product
Customers Also Bought