From Ragtime to Rock
(An Introduction to 100 Years of American Popular Music)
Daniel Glass
- Sea Glass Music, Inc.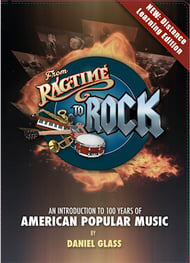 From Ragtime to Rock
(An Introduction to 100 Years of American Popular Music)
Daniel Glass
- Sea Glass Music, Inc.
This two-disc DVD package from award-winning drummer, author, and educator Daniel Glass offers a sweeping look at 100 years of music evolution, covering the end of the Civil War (1865) to the dawn of the British Invasion (1965). The goal? To show musicians and music students here in the 21st century just how much they have in common with the past. Teaching guides and reproducible activity sheets are included.
Select a Product
Customers Also Bought