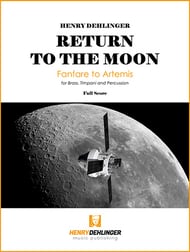 Return to the Moon
(Fanfare to Artemis for Brass, Timpani and Percussion)
Henry Dehlinger /arr.
- Henry Dehlinger Music Publishing
Publisher Desc.
This powerful anthem for brass choir, timpani and percussion heralds NASA's historic Artemis missions, which will bring humanity back to the Moon, on to Mars and beyond - 3 trumpets, 4 horns, 2 trombones, bass trombone, tuba, timpani, snare drum, bass drum, cymbals, and tam-tam.
Select a Product
Customers Also Bought