Re.corder Acoustic & Digital Recorder Wind Instrument
- Artinoise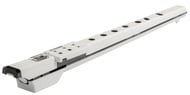 Re.corder Acoustic & Digital Recorder Wind Instrument
- Artinoise
Go from acoustic playing to the infinite world of digital sounds with a single touch - experience the Re.corder revolution! Play it on the road, learn music, practice with headphones, and join friends for online sessions with your mobile device. Re.corder is so much more than a recorder:
Technology
A series of touch-sensitive digital sensors detect the position of the player's fingers and a pressure sensor detects the force of the breath that generates the sound, opening up infinite possibilities provided by the instrument's innovative digital platform.
Interactivity
You can connect Re.corder to an external device such as a smartphone, a tablet, or a Windows or Mac computer to obtain real-time communication of its complete musical data, its status, the notes played, the force of the pressure, and data from the accelerometer. You can also connect it to any MIDI-compatible app - from educational ones to the more complex apps for music creation and production such as DAW (digital audio workstation), sound libraries, loopers, and other MIDI instruments.
Sound Versatility
Re.corder App allows you to play the various timbres in its sound bank, use different fingerings to create your own sounds, transpose octaves, apply effects, and more. As a real MIDI controller, Re.corder is able to reproduce the timbre of any third-party sound library instrument - from trumpet to clarinet, from a French horn to a full violin quartet, as well as percussion instruments and synthesizers.
Design
Re.corder is an instrument with a compact, modern, and elegant design. It is light, ergonomic, and complete with the functions of the corresponding traditional wind instrument. But when you activate its internal electronics, it expresses all of its revolutionary potential.
Portability
Re.corder is as compact as a traditional recorder, weighs only four ounces (120 grams), doesn't need long cables, and you can play it with headphones simply by connecting the headphone input to your device. Play your music where and when you want without disturbing anyone!
Educational Potential
Re.corder has extraordinary educational potential. Thanks to the fun and interactive study method present in the app, it offers the possibility of creating a complete orchestra in the classroom, practicing with a partner or in silence (with or without score), and playing in special modes for those with mild disabilities (lip presence sensor instead of pressure, keyboard mode without breath, fingerings).
Select a Product
Customers Also Bought