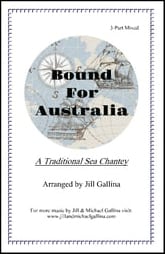 Bound for Australia!
arr. Jill Gallina
- www.jillandmichaelgallina.com
Heave away! This spirited traditional sea shanty will captivate the imagination with its catchy lyrics and swashbuckling rhythms. Also known as Cape Cod Girls, this easy-to-learn song has simple harmonies for young singers and will be so fun to perform!
Each Complete Choral Kit (CCK) has been specifically designed to successfully and easily facilitate traditional choral rehearsals or remote choral singing and instruction. This CCK is available for immediate download and comes with: a nontransferable license that provides the purchaser with mechanical, synchronization, and streaming rights; a reproducible PDF of the octavo to make copies for each member of your choir; a reproducible PDF of performance notes; part-dominant MP3s to aid students in practicing and learning their parts; a demonstration performance MP3; and an accompaniment MP3 track for performances.
Select a Product
Customers Also Bought