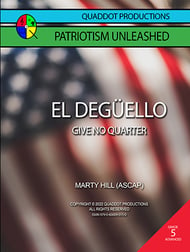 El Deguello
(Give No Quarter)
Traditional /arr. Marty Hill
- Quaddot Productions
Publisher Desc.
El Degüello was a bugle call that was used as a march by Mexican Army buglers during the 1836 Siege and Battle of the Alamo. This death march of a bugle call signaled that the defenders of the Alamo would receive no quarter, no mercy, by the attacking Mexican Army under General Santa Anna. This was the last thing heard by the defenders of the Alamo. It is a bright, haunting brass piece that caused Davy Crockett to say to Col. William Travis, "Kinda pretty," in the 2004 film, "The Alamo." In the end, the effect Santa Anna probably wanted was not achieved, as the playing of this over and over likely stirred the fire and determination of the Texas heroes.
Texas history teaches that Santa Anna allegedly had 14 military bands surrounding the Alamo playing this tune on March 6, 1836.
During the siege of the Alamo, about 260 '"Texians" stood up to more than 2,400 Mexican soldiers. In the end, 258 "Texians" died, but the Mexican army's losses counted nearly 600.
DIRECTORS NOTES
This piece expands on the melody and style of the tune, and builds throughout, telling the story of the intensity of the siege.
The piece opens with military drums and a Spanish trumpet solo. The solo can be adlibbed on the embellishments to make it the soloist's own.
This piece builds constantly throughout, with both crescendo-ing through the addition of instruments and increasing of volume throughout and ends with a haunting section following a recapitulation of the trumpet solo.
Emotion should be evident throughout this piece as it tells its story. Tempo is constant throughout. The feel is definitely a death march type feel.
This song is conflicting in that while it is a beautiful piece, known the meaning behind it and what it meant at the Alamo brings it to its sad, mournful conclusion.
Select a Product
Customers Also Bought