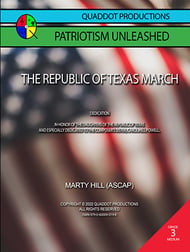 The Republic of Texas March
Marty Hill
- Quaddot Productions
Publisher Desc.
The State of Texas was an independent nation before becoming a state. It was known as the Republic of Texas. It was in the battle for its independence that the battle of the Alamo occurred. Titled for this short-lived, but proud republic, this song is written in honor of The Daughters of the Republic, an organization formed in 1891 and best known as the sole caretakers of the Alamo. It is through their devotion and care to the history of that historic site and the state of Texas itself that the Alamo has survived through the years of vandalism, city growth, age and decay.
Membership in this group is very select. One of the criteria states that members are those "who can prove lineal descent from men and women who rendered loyal service to Texas prior to its annexation in 1846 by the United States." This composer's sister is a member, so the interest in this group is somewhat personal. Because of this, and all this group has done to protect this treasured historic landmark, this song is written to honor them.
DIRECTOR'S NOTES
A happy, fun march that features mostly low brass, piccolo, and flute. This piece should be light and every bit the 120 bmp it is marked at.
There is only one key change and that is at the trio. The two keys are Bb at the beginning and Eb at the Trio. There is a passage before the trio with a few accidentals to facilitate the key change and some in the trumpet break of the Trio which can make things a little more challenge, breaking up the norm of predictable passages. Piccolo/flute part at trio can be performed as a solo if desired.
Dynamic changes should be exaggerated to give flavor and contrast throughout the piece.
Select a Product
Customers Also Bought