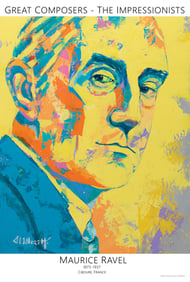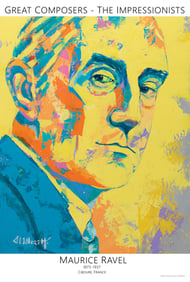 Maurice Ravel Poster
Al Moretti
- Moretti Music Publishing
Publisher Desc.
Great Composers ~ The Impressionists. Paintings by artist Al Moretti
A modern take on traditional composer portraits. Full of color and brightness to attract visual attention. Highlighting great composers that will brighten your room with art grade posters.
Maurice Ravel was a French composer, pianist and conductor. He is considered an Impressionist composer along with his elder contemporary Claude Debussy, although both composers rejected the term. In the 1920s and 1930s Ravel was internationally regarded as France's greatest living composer.
Select a Product
Customers Also Bought