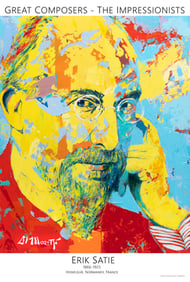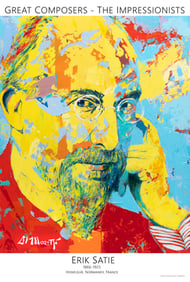 Erik Satie Poster
Al Moretti
- Moretti Music Publishing
Publisher Desc.
Great Composers ~ The Impressionists. Paintings by artist Al Moretti
A modern take on traditional composer portraits. Full of color and brightness to attract visual attention. Highlighting great composers that will brighten your room with art grade posters.
Erik Satie was a French composer and pianist. He studied at the Paris Conservatoire but obtained no diploma. In the 1880s he worked as a pianist in cafe-cabaret in Montmartre, Paris, and began composing works, mostly for solo piano, such as his Gymnopedies. Satie's example guided a new generation of French composers away from post-Wagnerian impressionism towards a sparer, terser style.
Select a Product
Customers Also Bought