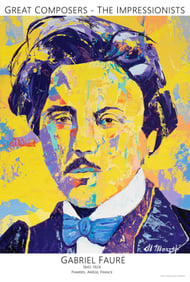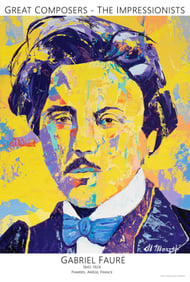 Gabriel Faure Poster
Al Moretti
- Moretti Music Publishing
Publisher Desc.
Great Composers ~ The Impressionists. Paintings by artist Al Moretti
A modern take on traditional composer portraits. Full of color and brightness to attract visual attention. Highlighting great composers that will brighten your room with art grade posters.
Gabriel Urbain Faure was a French composer, organist, pianist and teacher. He was one of the foremost French composers of his generation, and his musical style influenced many 20th-century composers.
Select a Product
Customers Also Bought