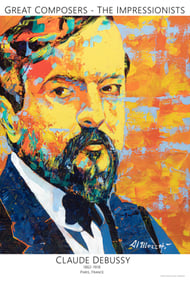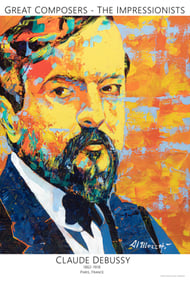 Claude Debussy Poster
Al Moretti
- Moretti Music Publishing
Publisher Desc.
Great Composers ~ The Impressionists. Paintings by artist Al Moretti
A modern take on traditional composer portraits. Full of color and brightness to attract visual attention. Highlighting great composers that will brighten your room with art grade posters.
Claude Debussy was a French composer sometimes seen as the first Impressionist composer, although he vigorously rejected the term. He was among the most influential composers of the late 19th and early 20th centuries.
Select a Product
Customers Also Bought