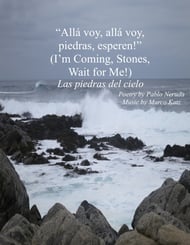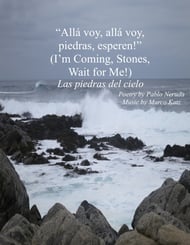 26 Alla voy, alla voy, piedras, esperen!
(I'm Coming, Stones, Wait for Me!)
Marco Katz
- Sneaky Yellow Dog Publishing
Publisher Desc.
The twenty-sixth selection from the song cycle, Las piedras del cielo, based on a volume of poetry by Chilean Nobel Laureate Pablo Neruda, and released on Centaur Records, "one of the oldest and largest independent classical labels in the U.S." (CRC 3232) Performs well as a single song or as part of the 56-minute song cycle, which can be interpreted by one or more voices. Score for piano and voice. Adhering to Neruda's poetry, the text appears in Spanish.
Select a Product
Customers Also Bought