Simple Worship, Vol. 2
(Dynamic Easy-to-Learn Arrangements from Today's Top Arrangers)
arr. Cliff Duren, Jay Rouse & Nick Robertson
- Lillenas Publishing Co.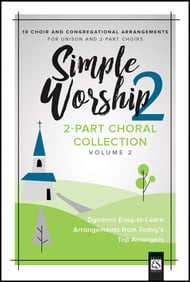 Simple Worship, Vol. 2
(Dynamic Easy-to-Learn Arrangements from Today's Top Arrangers)
arr. Cliff Duren, Jay Rouse & Nick Robertson
- Lillenas Publishing Co.
Dedicated to arranging with accessibility and excellence, this flexible collection brings you ten of the top trending modern worship songs arranged for any choir that wants to sing in either unison, two-part treble, or two-part mixed voicings. Filled with titles that will complement any worship service throughout the year, it provides easy-to-learn arrangements of songs such as Way Maker; Is He Worthy?; King of Kings; Graves into Gardens and many more.
Select a Product
Customers Also Bought
Full Song List
House of the Lord
How Firm a Foundation
Way Maker
Hymn of Heaven
Graves into Gardens
Is He Worthy?
King of Kings
Resurrecting
Death Was Arrested
See a Victory