13
(Choral Highlights from the Broadway Musical)
Jason Robert Brown/arr. Roger Emerson
- Hal Leonard Corporation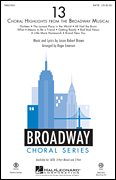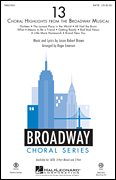 13
(Choral Highlights from the Broadway Musical)
Jason Robert Brown/arr. Roger Emerson
- Hal Leonard Corporation
Evan has six weeks to go before he turns 13 and, after an idyllic childhood in New York City, he's just been uprooted and brought to Appleton, Indiana with his mother. He has one mission: get all the cool kids in school to come to his Bar Mitzvah, or else spend the rest of his academic career banished to the Land of the Geeks. "13" is a show about finding out who you are, finding out what you need, and finding out what's really important. In this thirteen-minute medley, choirs will enjoy both the angst and the excitement of this pivotal time of growing up. Songs include:
All Hail the Brain/Terminal Illness; Bad Bad News; Brand New You; Getting Ready; I Won't Give Up; The Lamest Place in the World; A Little More Homework; Thirteen/Becoming a Man
and
What It Means To Be a Friend.
Select a Product
Customers Also Bought