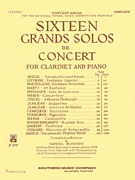 16 Grands Solos de Concours
Bonade
- Southern Music Company
This collection was compiled for the national school music competition-festivals. Contains the following solos: Introduction and Rondo (Widor); Fantasie Caprice (Lefebvre); Fantasie Orientale (Maxd'ollone); 1st Fantasie (Marty); Solo de Concours (Messager); Concertino (Weber) and more.
Select a Product
Customers Also Bought
Full Song List
INTRODUCTION AND RONDO by WIDOR
FANTAISIE CAPRICE by LEFEBVRE
FANTAISIE ORIENTALE by MAX D'OLLONE
1ST FANTAISIE by MARTY
SOLO DE CONCOURS by MESSAGER
CONCERTINO by WEBER
A WESSEX PASTORALE by STOCKS
ANDANTINO by JEANJEAN
SCHERZO BRILLANTE by JEANJEAN
SICILIENNE by FRANCOEUR
RIGAUDON by FRANCOEUR
CANZONETTA by PIERNE
BUMBLE BEE by RIMSKY-KORSAKOFF
FANTAISIE by GAUBERT
MELODIE & SCHERZETTO by COQUARD
SARABANDE, THEME VARIE by HAHN, R.
This item appears on the following state lists: