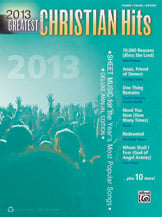 2013 Greatest Christian Hits
Various Artists
- Alfred Music Publishing
Publisher Desc.
From inspirational ballads to up-tempo rock styles, these are the hits to play in 2013! More than 100 pages of piano/vocal/guitar sheet music capture the year's most popular songs. Titles:
10 Thousand Reasons (Bless the Lord) (Matt Redman); God's not Dead (Like a Lion) (Newsboys); Good Morning (Mandisa); Hold Me (Jamie Grace
featuring
TobyMac): How Great is Our God (Chris Tomlin); I Need a Miracle (Third Day); Jesus, Friend of Sinners (Casting Crowns); Need You Now (How Many Times) (Plumb); One Thing Remains (Passion
featuring
Kristian Stanfill); The Proof of Your Love (For King & Country); Redeemed (Big Daddy Weave); We Are (Kari Jobe); Who You Are (Unspoken); Whom Shall I Fear (God of Angel Armies) (Chris Tomlin); You Are (Colton Dixon)
and
Your Love Never Fails (Newsboys).
Select a Product
Customers Also Bought
Full Song List
10,000 REASONS (BLESS THE LORD) by MATT REDMAN
GOD'S NOT DEAD (LIKE A LION) by NEWSBOYS
GOOD MORNING by MANDISA
HOLD ME by JAMIE GRACE AND TOBYMAC
HOW GREAT IS OUR GOD by CHRIS TOMLIN
I NEED A MIRACLE by THIRD DAY
JESUS, FRIEND OF SINNERS by CASTING CROWNS
NEED YOU NOW (HOW MANY TIMES) by PLUMB
ONE THING REMAINS by PASSION AND KRISTIAN STANFILL
THE PROOF OF YOUR LOVE by FOR KING & COUNTRY
REDEEMED by BIG DADDY WEAVE
WE ARE by KARI JOBE
WHO YOU ARE by UNSPOKEN
WHOM SHALL I FEAR (GOD OF ANGEL ARMIES) by CHRIS TOMLIN
YOU ARE by COLTON DIXON
YOUR LOVE NEVER FAILS by NEWSBOYS