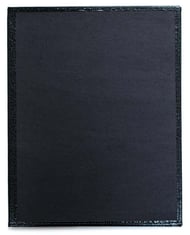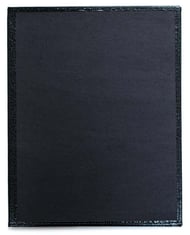 Model 2001 Instrumental Folder
(Imprinting is available)
- Marlo Plastic Products
The black fiberboard is combined with vinyl reinforcing at the hinge area. If your budget dollars are in real short supply, you may even consider this for performance use. Dimensions: open width: 21 3/4"; closed width: 10 3/4": Height: 13 3/4". Pocket dimensions: 9 1/2" x 5 1/2".
Music Folder Imprinting
Help your group stay organized while looking their best!
We offer the best prices and most professional embossing available. We imprint your folders personally, so your folders ship quickly and carry our 100% Pepper Guarantee. And, our quantity imprinting discounts make it affordable to customize folders for your entire group.
Gold embossed imprinting Order 50 or more folders, and get two lines of imprinting FREE!

Personalize it! Middle center pricing:
25 character maximum including spaces, up to 2 lines
Folder quantity, price per folder:
1 - 29 $3.00

30 - 49 $2.00

50+ FREE!

Numbers, Instruments and Personal Names -Only $1.00 per folder for each added line!
Personalize your folders to make keeping track of music even easier. Add numbers, instruments or personal names in the corners! There are no quantity discounts for additional lines. Information can be located in the upper right and lower right of the Folder corner.
Imprinting is available for this item - see information in order basket.

Select a Product
Customers Also Bought