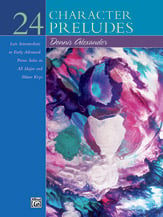 24 Character Preludes
Dennis Alexander
- Alfred Music Publishing
This collection of preludes in all major and minor keys contains a wealth of pedagogical challenges for the late-intermediate to early-advanced level student. Each prelude is designed to explore one or more pianistic problems, and serves as excellent preparatory repertoire for the more complex character pieces of the great masters of the nineteenth and twentieth centuries. The sounds of Bach, Mendelssohn, Schumann, Rachmaninoff, Debussy, Ravel, Gershwin, Prokofieff and Copland are echoed in the pieces in this collection. Titles include:
Bravissimo!; Castle in the Mist; Celestial Lullaby; Corps de Ballet; Dreamcatchers; Fleeting Spirits
and more.
ZigZag,
a piece included in this collection, is composed in the meters of 5/8 and 4/8.
Select a Product
Customers Also Bought
Full Song List
MELANCHOLY EVENING C MINOR)
MORNING GLORIES F MAJOR)
ON MAJESTIC PEAKS A MAJOR)
OPENING ACT C MAJOR)
PETITE NOCTURNE B MAJOR)
REGRETS F SHARP MINOR)
SMOLDERING BLUES A FLAT MAJOR)
SOLEMN DECREE E FLAT MINOR)
SUNSHOWER E FLAT MAJOR)
THUNDERFLASH G SHARP MINOR)
BRAVISSIMO F MINOR)
TIMELESS G MAJOR)
VILLAGE PIPER D MAJOR)
WARM EMBRACE B FLAT MAJOR)
WHIRLWIND D MINOR)
ZIGZAG G MINOR)
CASTLE IN THE MIST C SHARP MINOR)
CELESTIAL LULLABY E MAJOR)
CORPS DE BALLET G FLAT MAJOR)
DREAMCATCHERS A MINOR)
FLEETING SPIRITS E MINOR)
GYMNASTIC EXTRAVAGANZA B FLAT MINO
JUBILATO D FLAT MAJOR)
LONGING B MINOR)
This item appears on the following state lists: