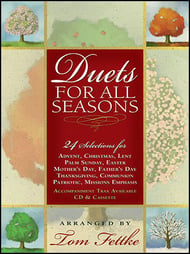 Duets for All Seasons
arr. Tom Fettke
- Lillenas Publishing Co.
What a wonderful resource! This collection contains 24 contemporary, traditional, and inspirational favorites arranged for one high voice and one medium voice. The selections are arranged by season including selections for Advent, Christmas, Lent, Easter, Palm Sunday, Mother's Day, Father's Day, Thanksgiving, Communion, Patriotic, and Missions emphasis. From contemporary composers such as Twila Paris and Natalie Sleeth, to great hymns such as
Hosanna, Loud Hosanna
and
Ten Thousand Angels
, this is a valuable resource of excellent duet material for the church.
Select a Product
Customers Also Bought
Full Song List
Wonderful
We Have Seen His Star
We Gather Together
Ten Thousand Angels
Sweet Little Jesus Boy
Sing We All Noel
Rose of Bethlehem
Remember the Lord
Prince of Peace
Lord, from Your Hand
Let Freedom Ring with My Country, 'Tis of Thee
I Will Be Christ to You
I Cannot Tell
Hosanna, Loud Hosanna
His Is Risen like He Said with I Know That My Redeemer Liveth
God of Our Fathers with Faith of Our Fathers
God Is with Us
Go Light Your World
Give Thanks
For God So Loved
Far Above Riches
Behold the Man
Be Ye Glad
Baby, What You Goin' to Be?