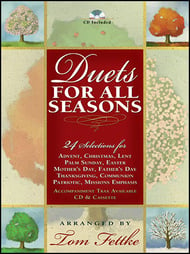 Duets for All Seasons
arr. Tom Fettke
- Lillenas Publishing Co.
What a wonderful resource! This collection contains 24 contemporary, traditional, and inspirational favorites arranged for one high voice and one medium voice. The selections are arranged by season including selections for Advent, Christmas, Lent, Easter, Palm Sunday, Mother's Day, Father's Day, Thanksgiving, Communion, Patriotic, and Missions emphasis. From contemporary composers such as Twila Paris and Natalie Sleeth, to great hymns such as
Hosanna, Loud Hosanna
and
Ten Thousand Angels
, this is a valuable resource of excellent duet material for the church.
Select a Product
Customers Also Bought