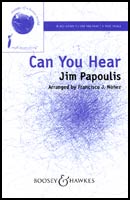 Can You Hear?
Jim Papoulis & Francisco Nunez
- Boosey & Hawkes, Inc
"Can you hear my cries? I am calling out to you." The global community of children speaks together in this dramatic call for a better future that uses worldbeat sounds, unified chordal harmonies, and occasional solos for a stunning effect. This is an inspiring way to close your concert or festival, or to set a tone for a dynamic new beginning for a season of music-making!
Select a Product
Customers Also Bought
This item appears on the following state lists:
This item appears on the following festival lists: