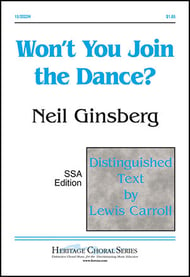 Won't You Join the Dance?
Neil Ginsberg
- Heritage Music Press
This clever, boppin' setting of Lewis Carroll's
Gryphon's Song
from "Alice in Wonderland" is a creative programming showcase for treble choirs at every level. Featuring solo opportunities, scat-like sections, harmonies reminiscent of "Manhattan Transfer," and a groovy, gospel-style finish, this will make your audience want to dance. It's refreshingly different!
Select a Product
Customers Also Bought
This item appears on the following state lists: