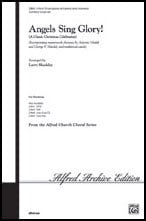 Angels Sing Glory!
Antonio Vivaldi & G. F. Handel/Larry Shackley
- Jubilate Music Group, LLC
This distinctive masterwork Christmas medley includes choruses from Vivaldi's Gloria and Handel's Messiah, as well as the traditional carols How Great Our Joy and Angels from the Realms of Glory. Great fun to prepare and sing, it is certain to become a classic standard for Christmas worship. The outstanding optional accompaniment for brass, strings and timpani adds a festive touch and is easily prepared.
Select a Product
Customers Also Bought