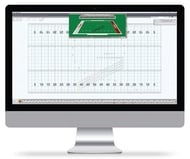 3D Basic and 3D Professional Pyware
(Drill Design Software)
- Pyware
Pyware has been the recognized leader in software specifically designed to meet the needs of marching band directors and drill designers worldwide for nearly four decades. High schools, colleges, and universities as well as drum corps depend on 3D for their designing needs. 3D offers the most advanced design features as well as the interactive Performer's Practice Tools, the software hundreds of marching ensembles depend on to get their show on the field as quickly as possible. Not only a staple item for high school and college bands, 3D has also been used for special events such as Super Bowl halftime shows, the Olympics opening and closing ceremonies, over 90% of all college bowl games, major parades, movies such as Drumline, and even on Broadway.
3D Basic is a lower-cost edition with all of the advanced 3D features for designing and printing drill. This product was developed for marching band directors that need to design their own field shows.
3D Professional includes all of the features of 3D Interactive and 3D Basic as well as all of the plug-ins offered by Pygraphics, including the floor covers, traditional design tools, spiral tool, and personal drill book printer. This edition also includes an additional installation for your license as well as an increase in the number of files you can host in your online account. 3D Professional is developed for full-time drill designers and drill design companies as well as ensembles that desire the most features available.
Version 11 is now available. A Pyware Cloud Services subscription is now required and is included with the purchase of Version 11.
Windows and Mac compatible! Be sure to click on the movie reel icon below to see a demonstration.
Select a Product
Customers Also Bought