50 Selected Songs
Franz Schubert, Robert Schumann, Johannes Brahms, Hugo Wolf & Richard Strauss
- G. Schirmer, Inc.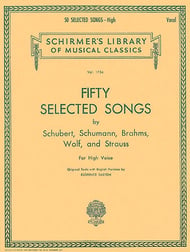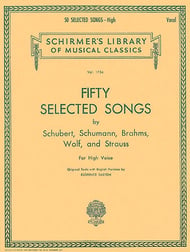 50 Selected Songs
Franz Schubert, Robert Schumann, Johannes Brahms, Hugo Wolf & Richard Strauss
- G. Schirmer, Inc.
In both English and German. This collection represents the five most important composers of German songs, or
Lieder
: Schubert, Schumann, Brahms, Wolf, and Strauss. It's an extremely valuable collection that every performer, student and teacher should include in their personal library. If you're searching for a particular Lied, chances are you'll find it in this gem.
Select a Product
Customers Also Bought
Full Song List
Rastlose Liebe by Franz Schubert
Die Allmacht by Franz Schubert
Im Abendroth by Franz Schubert
Nacht und Traume by Franz Schubert
Wohin? by Franz Schubert
Nachtviolen by Franz Schubert
Der Schmetterling by Franz Schubert
Heidenroslein by Franz Schubert
Ungeduld by Franz Schubert
Liebhaber in allen Gestalten by Franz Schubert
Die Lotosblume by Robert Schumann
Mein schoner Stern by Robert Schumann
Widmung by Robert Schumann
Fruhlingsnacht by Robert Schumann
Der Nussbaum by Robert Schumann
Auftrage by Robert Schumann
Schneeglockchen by Robert Schuymann
Du bist wie eine Blume by Robert Schumann
Mit Myrthen und Rosen by Robert Schumann
Mondnacht by Robert Schumann
Von ewiger Liebe by Johannes Brahms
Standchen by Johannes Brahms
O komme, holde Sommernacht by Johannes Brahms
Auf dem Kirchhofe by Johannes Brahms
Botschaft by Johannes Brahms
Vergebliches Standchen by Johannes Brahms
Der Tod, das ist die kuhle Nacht by Johannes Brahms
In Waldeseinsamkeit by Johannes Brahms
Wie Melodien zieht es mir by Johannes Brahms
Meine Liebe ist grun by Johannes Brhams
In der Fruhe by Hugo Wolf
Lebe Wohl! by Hugo Wolf
Nun wandre, Maria by Hugo Wolf
Und willst du deinen Libsten sterben sehen by Hugo Wolf
Verborgenheit by Hugo Wolf
Mignon by Hugo Wolf
Auf dem grunen Balcon by Hugo Wolf
Nimmersatte Liebe by Hugo Wolf
In dem Schatten meiner Locken by Hugo Wolf
Bescheidene Liebe by Hugo Wolf
Morgen by Richard Strauss
Cacilie by Richard Strauss
WIE MELODIEN ZIEHT ES MIR BRAHMS)
Heimkehr by Richard Strauss
Traum durch die Dammerung by Richard Strauss
Allerseelen by Richard Strauss
Zueignung by Richard Strauss
Ich trage meine Minne by Richard Strauss
Heimliche Aufforderung by Richard Strauss
Ruhe, meine Seele! by Richard Strauss
This item appears on the following state lists: